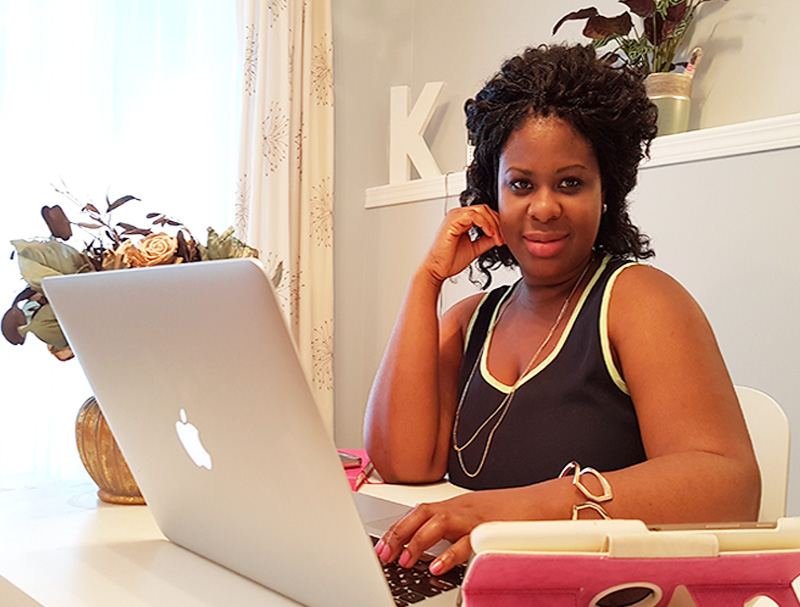 I help companies craft, manage and market their corporate identity. From logo to web development, print collateral, and social media marketing, my goal is to make sure that your business displays an image that defines who you are to the core. 
My

Mission:
To assist clients in achieving their professional goals by developing comprehensive branding schemes based on exceptional design and effective communication that fully reflects the passion they possess for their careers.
Who is Kreative Kekeli?
I am Kekeli Afi Afewu, a multi-disciplined designer living in Calgary, Alberta. I am a graduate of Design from Simon Fraser University's School of Interaction Design and Technology with a minor in Publishing. With my interaction design background, I am proficient in both web and print based design, with a key eye for usability and developing exciting brands.
Kekeli provided impeccable service, very responsive, took great care to understand my needs, created various options with extra touches to details that provided beautiful results.
Kathryn Turnbull, Yoga Living
Kekeli has been so very helpful and prompt in helping me with some poorly designed websites, transforming them from dated and dull to easy to read, and use. She is efficient, creative and is great with any follow-up needed once launched. I would recommend her company with no hesitation.
Peggy Bell
Kekeli was designing website for my new company, I have to say my experience working with Kelly was very pleasant. Kelly is built out of patience and very professional approach, highly skilled in computer graphics and her creativity doesn't have borders. From the simple design to final effect, Kelly really impressed me. I would recommend Kelly's services to anyone I know
Greg Bandula, Calgary Renova
Kekeli sets a very high standard! She provides fast and efficient service; and even after the website is built, her continued commitment to top quality service is unwavering. We highly recommend her!!
The Staff at Weatland RV Co-Op
My team had such a great experience working with Kreative Kekeli. She was awesome at converting our random thoughts into an organized website. We are proud of the end product TheDesktopExpert Thank you for committing to seeing us succeed in the "www" space.
Thabani Conrad, The Desktop Expert
Kekeli designs and maintains my web pages and my email marketing campaigns. She always get things done the way I want and on time.
Ted Kopp, Canada Cranes Ltd
Kekeli designed our website for us at Hidden Manna Naturals. She Was extremely patient and professional. She was efficient at taking our vision and bringing it to life. We are very happy about the work she did on our website. We will recommend her for all your website needs.
Gloria Ofori-Atta, Hidden Manna Naturals